Tipps zum Deutsch lernen – Texte 🇬🇧 🇺🇸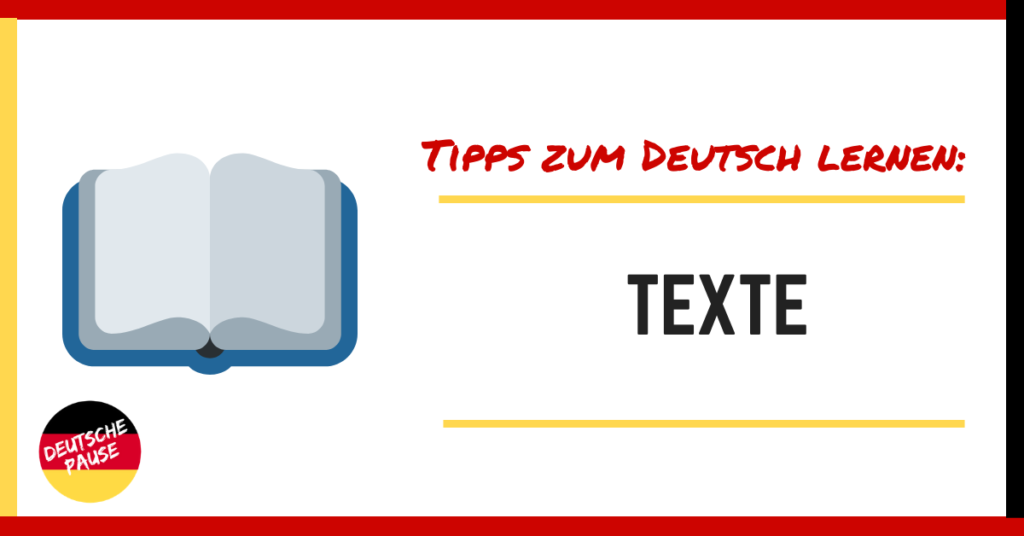 Here you will find links for sites with texts for all levels. Some with audios, other with exercises.
But how to learn with them? How can you improve your German with those texts? Repetition is the key! It doesn't matter in what level you are, always read the text more than once. In case you are a beginner, prefer texts with audio, so that you can train both habilities at the same time.
To avoid getting bored, change the focus each time you read it. Once try understanding the text by context, without looking for the new vocabulary. Another time read it out loud and later focus on the new vocabulary or specific grammar structures.
In case they are available, do exercises! And if you can, put all the new words on flashcards to review them in the future. Just remember to space the repetition.
On this website you can read the news with an easier German. The topics are: politics, culture, sport and economy. The news are written in intermediate or advanced level. There are also audios.
NACHRICHTEN IN LEICHTER SPRACHE
This is one more website where you can read the news in an easeier German. This way you can keep informed and exercise your German skills at the same time. In the text there are some highlighted words and when you click on them, there is an explanation swith examples. The website is recomended for the A2 level and above.
Actually this can be considered a podcast too, although the audios are text being read. On the website you can see the translation of some words into English. It is recomended fora intermediate and advanced students.
This is the website of a really good magazin, by the way. They publish articles in all 3 levels (from beginners to advanced). Some of the articles are available for free on the website.
On this website the texts go from A2 until B2 level and are about the most diverse topics.
One more option of website with news in German. It is recomended for the B1 levels and above. It has an explanationof some of the vocabulary, audio and exercises.
On this swiss website you will find texts in an intermediate level. It also has exercises.
On this website you will find texts for various levels. Some are even divided but the grammar topic.
On the website of yet another magazin dedicated to German learners (also very good) it's possible to read texts in all 3 levels (starting at A2) but most of them are intermediate. There is also the possibility to hear the audio for some of them.
AUTHENTIC CONTENT:
If you already have a good level of German and are tired of always seeing the same content, you might want to check out some authentic content. But what does this mean? It means that the texts are made for natives and use a different kind of language than wat you will see in textbooks.
If you have a good level of German and like soccer/ football you might want to check this out.
SPIEGEL - THEMA 1000 FRAGEN
What is cool about this website is that you have some very interesting questions like: Why do we cry? Do animals dream? Why is it that so many ancient artifacts show so much nudity? There they explain the topic and answer the question.
This is another interesting tip if you are tired of always reading the same things. This magazin brings topics that are important for Germany and its people.
Are you thinking about going to university in Germany? Then this website is for you!
Do you know or use any other website ? Share with us!